When you think of the inside of a New Horizons RV, what words come to mind? Luxury? Style? Comfort? Durability?
Those are all great answers, but two particular principles stand behind every New Horizons interior feature: residential quality and customer choice.
At New Horizons, we don't just build recreational vehicles. We build HOMES that people live in year-round for years to come. Plus, we don't build just any home. We build YOUR home, so it should reflect the way you want to live — from the floor on up!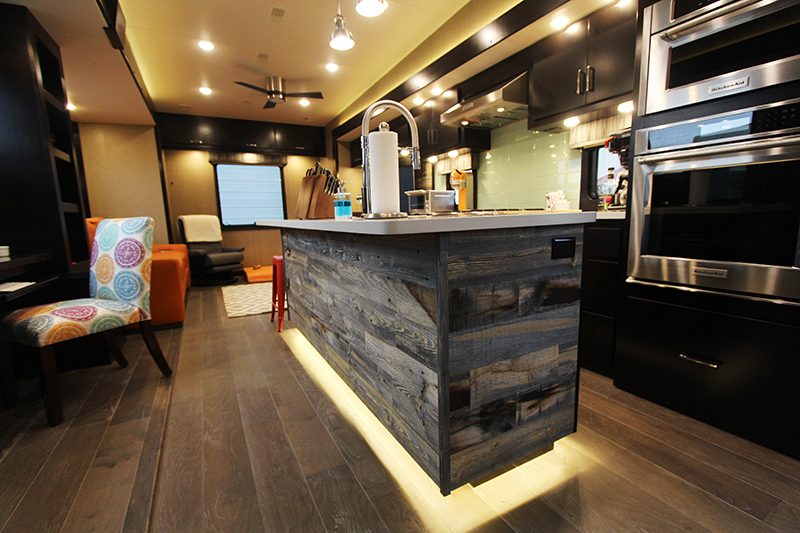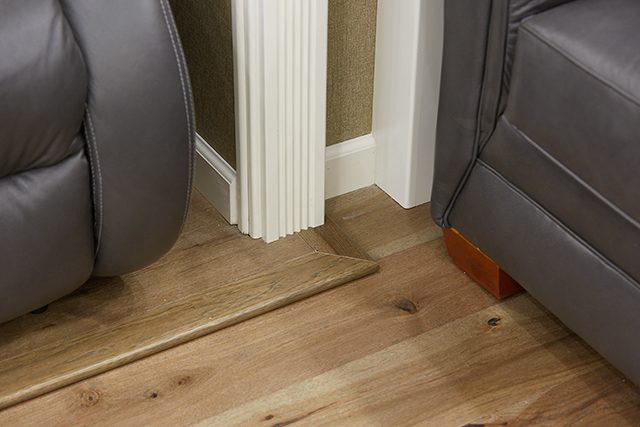 True hardwood floors
Genuine hardwood floors throughout — including the slide rooms — set us apart from virtually every other manufacturer. We use hickory flooring from Shaw Floors, which has been noted for its exceptional quality for more than 40 years.
Hickory is not only beautiful but exceptionally durable, with one of the highest Janka ratings (1820) among domestic woods. That's harder than maple, walnut … even oak! We offer a variety of finishes — light, dark, brown, gray — whatever matches your personal taste!
Of course, we can also provide carpeting or vinyl, if and where that's your preference.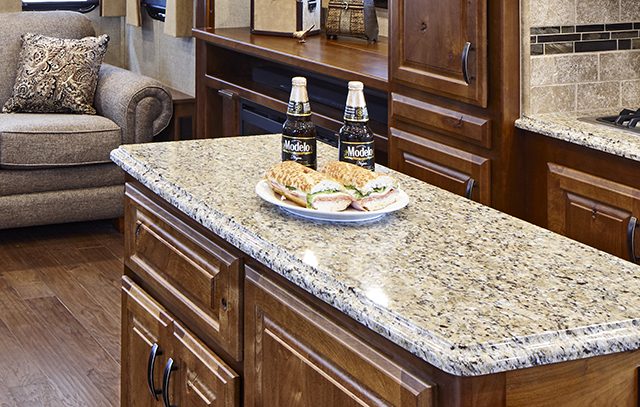 Custom kitchen and bath
New Horizons kitchens feature granite countertops and custom backsplashes. Not only are they gorgeous, but they stand up to years of full-time living. Granite is a great choice for kitchens because it resists heat, stains and bacteria, and you can choose a color that matches your décor.
We use Onyx showers and tubs to provide that same durability, beauty and wide range of colors in your bathroom design. Vessel sinks and designer faucets are also available.
Other custom kitchen and bath features can include wine racks and industrial-style pendant lighting — pretty much anything that makes you feel at home.
Residential furniture
If your image of "RV furniture" is small and flimsy with upholstery that feels like sandpaper, don't worry. You won't find any of that here.
Furnishing a New Horizons coach is no different than furnishing any high-end home. We purchase from England Furniture Co., which has been making quality upholstered furniture in New Tazewell, Tenn., since 1964.
Expect the same size, quality and comfort you would find in a stationary house.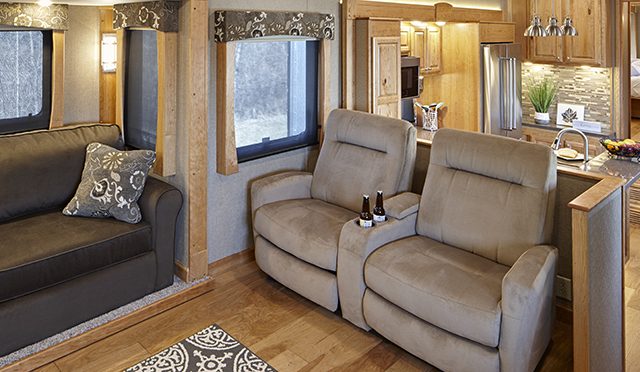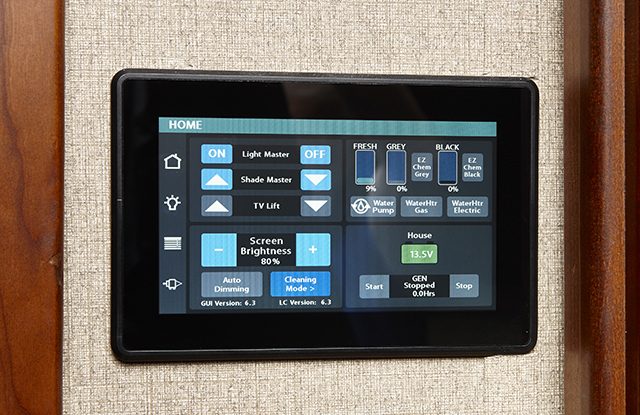 Firefly system
Tying your interior living experience together, our Firefly Integrations system allows you to control technology such as lights, slides and holding tanks from a single panel. Bluetooth connectivity and home security systems are also available.
A New Horizons RV is more than just a weekend retreat on wheels. It's your home! We offer a wide array of interior design choices to make it feel like just that, a home!
We also offer the highest quality. You can expect the same materials, installation and craftsmanship in your New Horizons home that you'd expect in any high-end home.
For more information on the array of custom interior options, contact our product specialists.
To view a sampling of our floorplans, check out the fully customizable Majestic line, or the pre-engineered Summit floorplans.