Thank you for your interest in New Horizons RV. It is with great pride that we present information for your consideration. We build the world's most luxurious towable RVs. Our units aren't just beautiful, they are engineered and built with attention to detail in every facet that is unmatched in the RV industry.
Built for Full-Time
Our RVs are known for their true four-season comfort that allows you to enjoy your RV in temperatures ranging from below zero to one-hundred degrees and above. They are built to withstand the rigors of full-time living for decades. In fact, we have earned the only FIVE STAR RATING by the RV Consumer Group for over a decade.
Custom Designed for You
Our family owned and managed company has been building RVs for over 25 years. The goal is always to build what our customer needs and wants to enjoy this great lifestyle. We have fantastic floorplans that have years of consumer input in making them livable and easy to use, or if it takes a custom design to fill your desires, we will design one especially for you.
Our Mission
To bring happiness and satisfaction to owners of New Horizons RV's by: Building the best towable RV on the market. Giving the customer a unit they are proud of and is built for their needs. Providing excellent value for the customer's hard-earned money. Honoring God in everything we do and say in our interaction with customers and employees.
Get to know New Horizons
Located near Milford Lake, New Horizons is a 40,000 sq. foot modern facility staffed with dedicated craftspeople who are proud of every unit built. That pride is complimented by a level of experience that is unmatched in the RV industry. These factors are a large part of why The RV Consumer Group has awarded us a Five Star Rating in the Full Timer towable Category – the only one in the world.
We believe we have developed a special product unlike any other in the RV industry. Our custom design approach allows you to select features you want included and eliminate those you don't. We build your coach according to your personalized design specifications.
Our factory direct sales process is designed to not only ensure that you know how we build your unit; it also gives you great value in purchasing your coach. When you compare the price of our New Horizons to full time units sold through dealers, you will find us to be very competitive even to units that are not custom built.
We know you have worked hard to buy your RV. New Horizons RV will work equally hard to build the best RV in the industry specifically for you.
For a first-hand look at the craftsmanship that goes into each New Horizons luxury RV, we welcome you to tour our factory. Tours take between 30 and 45 minutes and start at 10:00 am Monday through Friday. We ask that you call in advance.
Meet Our Team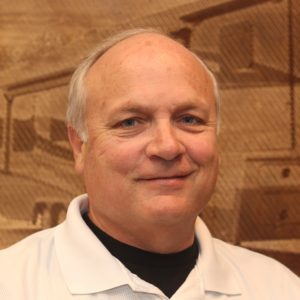 BRYAN TILLETT, CEO
Bryan has worked in the RV industry for more than 37 years. He was hired by Vaughn Peterson in 1980 as a welder for Peterson Industries, Inc., manufacturer of Excel recreational vehicles. As Peterson Industries grew, he became a line supervisor, then was promoted to Director of Purchasing for the company. In 1989, Bryan became part owner of Peterson Industries, along with Vaughn and Mike Nebel.
In 1996, Bryan was promoted to President where he presided until the great recession that began in 2008 finally forced Peterson Industries to close their doors in early 2015.
Bryan has been blessed to have a terrific wife, Deb to whom he has been married for 43 years. Together, they have 3 daughters who grew up enjoying the RV lifestyle, and 6 grandchildren (so far). Pulling an Excel 5th wheel or travel trailer around the United States summer after summer, Bryan, Deb, and their girls logged more then 100,000 miles, seeing so much of what this great country has to offer.
Bryan was hired by owner & CEO, Phil Brokenicky in April 2015 as Director of Operations. In December 2016, Phil passed away after a brief but courageous battle with cancer, but not before naming Bryan CEO.
"One can only appreciate the vision Phil brought to New Horizons in making our fifth-wheels the finest available. He spared no expense and accepted nothing short of flawless effort," says Bryan. "I personally admired Phil for his faith, character, family values, and concern for always doing the right thing. Being a small family-owned RV manufacturer in Kansas has unique challenges, but the opportunity exists here to make New Horizons more desirable to those buyers who truly want the finest fifth-wheel available at an affordable price. I look forward to carrying on Phil's legacy."
Bryan's hobbies are aviation, having logged over 3,300 hours in multiple aircraft, and RVing.
DREW BROKENICKY
PRODUCT SPECIALIST
Drew has extensive knowledge on the inner workings of a New Horizons Fifth Wheel. His experience as the company's production manager aids the custom designing process with his customers. Working with Drew, you are working with family, and will get the personal touch that you deserve.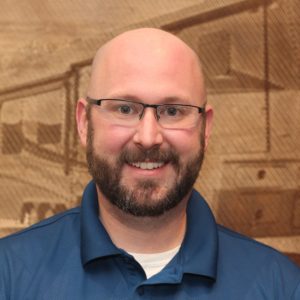 COLE BROKENICKY
PRODUCT SPECIALIST
Cole is the youngest of Karen and Phil's 3 children. He has learned the business quickly and from the bottom-up. He worked summers in the factory while going to Kansas State University (where he played football), so he brings a perspective of what makes quality in the infrastructure of the New Horizons RV.
ERIN USHER
PRODUCT SPECIALIST
Erin has been with New Horizons for a few years now and has been in both the Receptionist and Sales Coordinator positions. She has just recently accepted the position of Product Specialist and we have faith that she will live up to the task. Erin likes to work on her truck in her spare time and is the mother of a 4 year old son, Jace, and her newest addition, Jordan. Erin is here to help your RV dreams come true!
ELIZABETH HILLEBERT
SALES COORDINATOR
Elizabeth joined the New Horizons team in July of 2020 as the new Sales Coordinator. She is a Kansas/Missouri native, owning a home right here in Junction City. She is a mother of an amazing three year old little boy named Alastaire whom is her whole world. She is a crafty gal who in her spare time loves to sew, cook, and bake. She also really enjoys decorating and landscaping. We know she'll be the right person for the job!
COURTNEY WILLIAMS
MARKETING COORDINATOR
Courtney is originally from South Alabama, but moved to Fort Riley/ Junction City in January of 2019 when her husband PCS'd here. Courtney and her husband, Kevin, are high school sweet-hearts and together they enjoy going to Disney World! Courtney is currently pursuing her degree in Marine Biology & Oceanography. She is a Disney lover, crafter, and enjoys long walks around Hobby Lobby. In her spare time, Courtney enjoys spending time with her husband and their two dogs, a Lab, Ellie, & a Pomeranian, Nala!
KEN ULLMER
SERVICE MANAGER
Ken has been with New Horizons for 20 years. He has served as Production Mgr., Purchasing Mgr, and Sales.  Ken will schedule your appointments for service and also assist you when you need warranty work done. He's very knowledgeable about the mechanics of each RV and is happy to help fix any problems.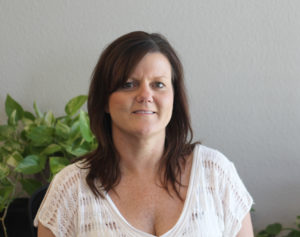 STACIA WILEY
CONTROLLER
Stacia Wiley serves as the Controller at New Horizons RV Corp. She plays a major role in the financial, clerical, and administration of the company, while keeping a close eye on accuracy and efficiency. Through her commitment to this role, she has helped improve cash flow, daily processing workflows, and ultimately, the bottom line.
Before joining the New Horizons team, Stacia was a financial analyst at Wageworks Inc. from 2005 to 2011 and a senior accountant at state street from 2001 to 2005, both in Kansas City. She also earned her P&C insurance license and got a brief taste of the insurance industry, only to realize her passion for number crunching was just too strong.
She is the proud alumni of Kansas State University where she received a Bachelor's degree in accounting. When she's not busy with reconciling accounts and preparing financials, Stacia enjoys spending time with her husband, Darin, their two children, Victoria and Jaxon, and their pug, Baxter. Whom just celebrated his fifteenth birthday.
STEPHANIE SHERWIN
FINANCE MANAGER
Stephanie, a native of Junction City, returned with her son (Garon) in 2017 after more than 20 years.  It was at that time that she reconnected with an old high school friend, Kevin, whom she wed in April 2020.Stephanie attained an Associate Degree in Business Technology and has extensive experience in administration.  She joined the New Horizons' team in February 2020 as the Finance Manager. Her responsibilities include all customer financing, title paperwork and a plethora of other duties.  She takes great pride in her work and her belief that customer satisfaction is #1 is a huge asset to New Horizons.In her spare time, Stephanie enjoys spending time with her family, target shooting and cooking out.  She loves riding with her husband on their Harley and taking weekend road trips
CHRIS KAISER
PRODUCTION MANAGER
Chris oversees the production line from start to finish in the building process of each RV built here at New Horizons. Chris works hard to make sure production runs smoothly so the customers can pick-up their units at the scheduled time.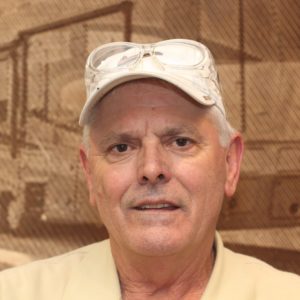 HAROLD JAGERSON
QUALITY CONTROL
Harold has been with the company since 2013. He has his expertise in plumbing and recently has been in charge of our extensive quality control program. He runs tests on each RV as it moves down the line to make sure things are working properly. Harold is in charge of the 3 day orientation that we go through with each of our customers to get familiar with their unit before we send them down the road. He will walk through the new unit with them and go through a checklist and make sure everything is as expected and if not he'll get it taken care of.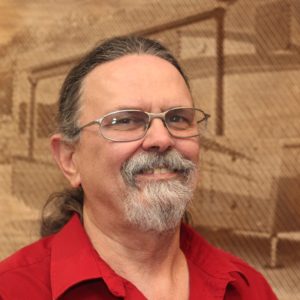 FRANK PRESCHER
DESIGNER / DRAFTSMAN
Frank has designed almost every New Horizons ever built. Starting on day one of the company's existence, he first drew the plans by hand and now uses a CAD system to engineer. He is  involved in all the plans and production drawings from New Horizons.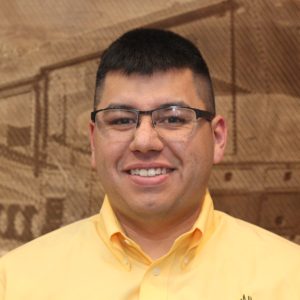 JOSEPH SWISHER
DESIGNER / DRAFTSMAN
Joseph has been with us since May 2016.  Along with Frank and our Sales team, he coordinates the design and function of our customers' desired floor plans.  He loves his position and finds it fun and challenging to get everything just right for our customers and staff.  In July 2017, Joseph married his sweetheart, Hayley, and they live in Topeka.  They can usually be found hiking, fishing, or playing disc golf.
AUSTIN MCKIE
DIRECTOR OF PURCHASING
Austin first joined New Horizons in 2015 as an electrician. He recently accepted the Director of Purchasing position and is in charge of ordering parts and making sure they're delivered in a timely manner. Austin loves cars and exotic pets!
SHANNON SEAMAN
RECEPTIONIST
Shannon was born and raised right here in Junction City, Kansas. She has two grown sons and a four year old grandson whom she enjoys spending all of her time with. Shannon enjoys riding the motorcycle, traveling, and hanging out with her grandson by the pool in the summer. She is the first face you'll see when you walk in the door and the first voice you'll hear when you call!