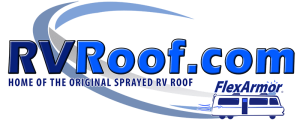 Never reseal your roof again!
Known as the Original Sprayed RV Roof, FlexArmor Roofing combines spray polyurea technology with RV construction to create a seamless sprayed RV roof.
FlexArmor Roofing features a proven process in use since 2005:
Existing caulking is completely stripped
All exterior components, such as ACs or vents, are removed
Certified technician applies patented spray that dries within 6 seconds and is 3X thicker than typical RV roof material
Removing caulking joints on an RV roof removes the potential for leaks.
FlexArmor Roofing comes with a no-leak transferrable warranty good for the life of the RV. Your roof will never need to be resealed again.
Currently, New Horizons is set up to treat roofs on any previously built RV, regardless of brand or manufacturer. Soon, we will be able to add this as an option for all new Majestic orders.
For more information, contact Alysia McCollough, our Service Coordinator: alysia@horizonsrv.com, call 785-238-7575 or schedule an initial inspection.