New Horizons is excited to offer these opportunities to experience a variety of our top-of-the-line, custom-built RVs, as well as meet members of our team, in the coming months.
First, come and see the leader in luxury fifth wheels at America's Largest RV Show on Sept. 13-17 at the Giant Center in Hershey, PA.
New Horizons will showcase our 2024 Majestic M38IK3S, and our 2024 Summit S39RK3S. The island-kitchen M38IK3S boasts our luxurious raised-panel natural cherry cabinetry, a private toilet, stand-alone dinette, washer/dryer cabinet, sofa, and theater seating. Additionally, as one of our last Summits, the S39RK3S features our gorgeous natural cherry cabinetry as well as a dishwasher drawer, residential style fridge, recliner, fireplace in the entertainment center and a dedicated washer/dryer cabinet.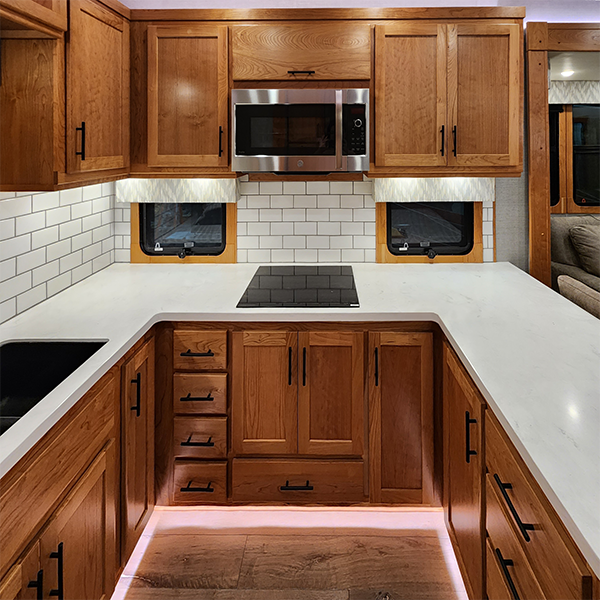 Everyone attending the Hershey show is welcome to walk through these luxury dream homes, but limited slots are available to book an appointment with product specialists Cole and Austin.
To take in the look and feel of our Majestics and Summits, plus tour the factory where they're built, don't miss our second annual RV Open House on Oct. 6 at Acorns Resort in Milford, KS.
The open house will include up to 20 New Horizons RVs on display. Plus, we'll be running two tour groups through the factory that morning, just a short drive away in Junction City, KS.
You'll have the chance to learn more about these customized units from the people who live in them and the technicians who build them.
Our goal is to provide a personalized experience that's second to none, and you'll be able to meet the small but mighty team that makes it all possible at our open house.
We can't wait to show you why so many of our customers have started, and are living, their RV dream with a New Horizons RV. 
Find out why so many people choose New Horizons as their home builder.