It all comes down to strategic organization.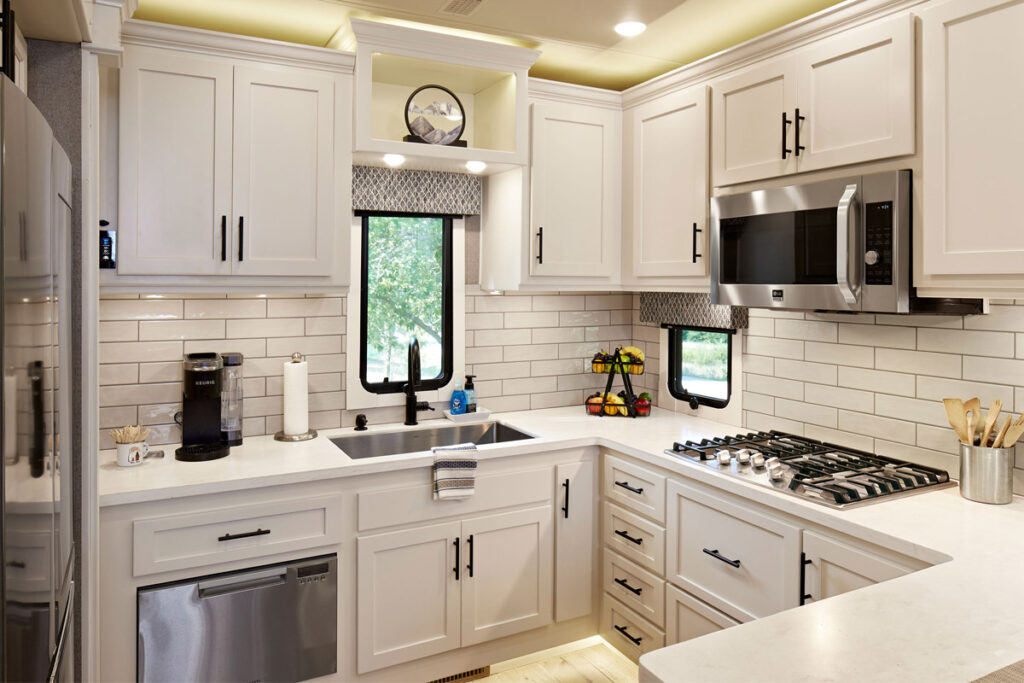 You've done it; you've decided to embrace the full-time RV lifestyle!
You've put the for-sale sign in your yard, knowing your home will sell quick.
Now, how the heck do you pack up your entire kitchen to fit in your new RV?
Good news is you don't have to!
The biggest question to answer is whether you're going to be cooking for two, or for the whole RV park?! Going full-time doesn't mean you have to stop entertaining, but it does mean you need to be strategic about how you organize your RV kitchen.
COOKING
There's a never-ending supply of camping recipes. In fact, you can't open your Facebook feed without seeing at least 10 different posts with new recipes to try. But just because you're on the road, doesn't mean you can't make all the recipes you made while at home. Make a list of your favorite meals, including those you make for holidays and large gatherings. Are there special gadgets or utensils you need for these?
ORGANIZING
Yes, you will have less cabinet and drawer space, but do you really need eight spatulas? Can you get away with two? Do you really need to take your best china or can your friends at the RV park BTOP (Bring Their Own Plates)? New Horizons RVs can be designed with a dishwasher if washing by hand is out of the question. The rule of thumb for RV kitchens is to have at least 3-4 days of cutlery, tableware and utensils.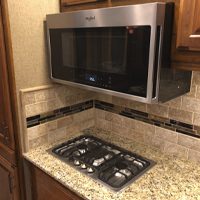 SMALL APPLIANCES
Do you need a blender, mixer AND juicer? How often do you really use your countertop bread maker? There's a multitude of 'as-seen-on-tv' kitchen gadgets laying around the average person's kitchen, and chances are they've only been used once or twice (hard-boiled egg steamer, anyone?). Think about alternative ways of making your favorite foods.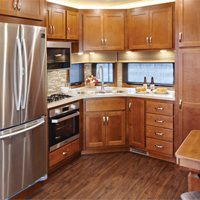 COOKWARE & BAKEWARE
Finding new ways to make your favorite dishes will help you rethink your cookware and bakeware, too. Of course, you will need a selection of pots and pans, but you may not need that heavy duty stock pot if it's just the two of you, right? A few different sized pans and skillets can round out your cookware, and you can keep them tucked into the bottom half of a cabinet. You can customize your New Horizons RV to have a convection microwave in addition to your stove/oven, essentially doubling your baking space. Your metal cookie sheets or pizza pans CAN go in your convection oven too (only on the convection setting) and 'think 'stackable' when it comes to baking dishes! Selecting stackable cookware and bakeware pieces that pull double duty will maximize your cabinet space.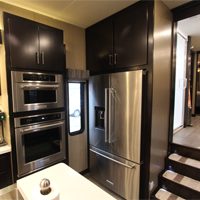 On average, RV kitchens have 50-70% less storage, cooking and prep space than your home kitchen. New Horizons RVs can be customized to minimize space loss, but let's face it, you will need to downsize. Everyday meals for two won't be hard. Large meals for social gatherings will take a little more prep time and organizing, but you can still pull it off in a smaller space!
Want to start customizing your own RV kitchen? Go to our Build and Price Tool to start designing!
Want to learn more about New Horizons RV? Read more blog posts or visit our Facebook page.